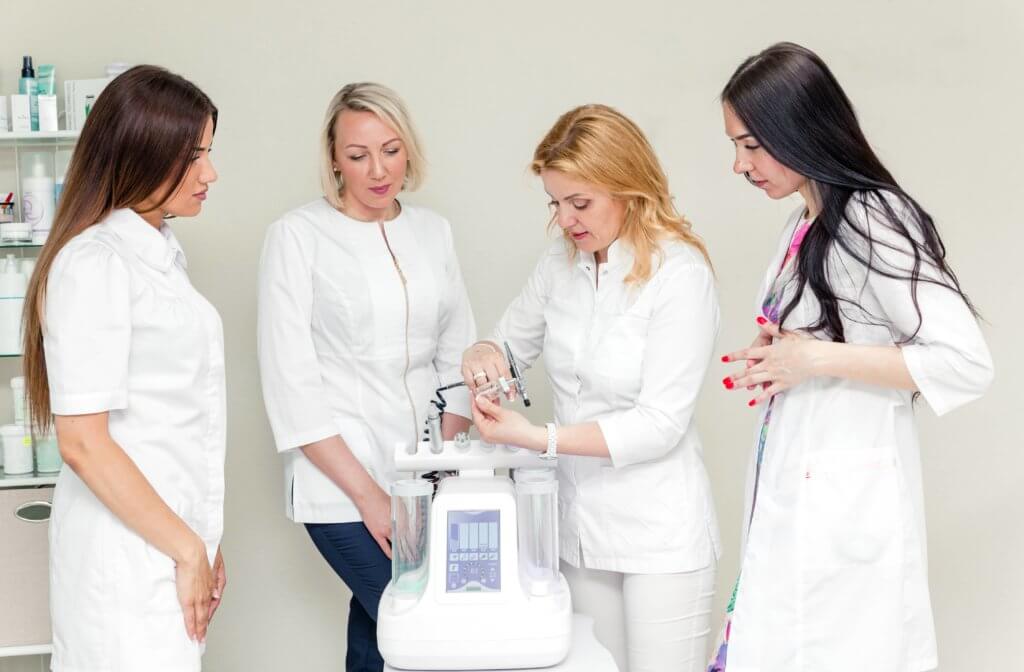 Laser aesthetician technicians play a crucial role in the beauty industry, utilizing cutting-edge technologies to provide a variety of cosmetic treatments to clients. Whether it's laser hair removal, skin rejuvenation, or tattoo removal, laser aestheticians must be well-versed in the latest techniques and technologies to provide safe and effective care. However, obtaining certification from a reputable training program is essential to excel in this field.
This article will explore obtaining certification in a laser technician training and certification program, including qualifications for enrollment, course curriculum, and accreditation and licensing requirements.
What Is A Laser Technician?
Cosmetic laser technicians are highly trained professionals qualified to operate and administer some of the most in-demand cosmetic treatments in the industry. After completing a comprehensive laser training program, laser technicians are equipped with the necessary skills and knowledge to perform a range of cosmetic procedures, including but not limited to laser hair removal, laser tattoo removal, laser wrinkle reduction, laser skin rejuvenation, and laser acne removal.
Laser technicians also play a crucial role in the consultation and evaluation process. They work closely with clients to assess their skin type, medical history, and specific concerns to curate a personalized treatment plan that meets their unique needs. This requires high communication and interpersonal skills and an in-depth understanding of the latest laser technologies and treatment modalities.
Part of the laser technician training program is devoted to developing the skills necessary to provide outstanding client care. Laser technicians learn how to conduct thorough consultations, evaluate a client's skin condition, and create custom treatment plans that are both safe and effective. By combining their technical expertise with a client-centered approach, laser technicians can deliver excellent results that meet their client's needs and exceed their expectations.
Where Do Laser Technicians Work?
Becoming a laser technician presents many benefits, one of the most significant being the diverse job opportunities available. Graduates of laser technician training programs have the potential to work in a variety of settings, such as doctor's offices, medical spas, dermatology clinics, and salons, and even to establish independent businesses.
The extensive range of job opportunities in laser technology is primarily due to the increasing demand for laser skin treatments. With more and more individuals seeking non-invasive, safe, and effective cosmetic treatments, medical professionals, dermatologists, and beauty practitioners are seeking to expand their service offerings to meet the ever-growing demand. This makes becoming a laser technician desirable, with ample job opportunities for dedicated, skilled, and knowledgeable people.
So, how do you become one? Earning a certificate is a start.
Laser Training And Certification Program NCLC Certification: 120 Total Hours
The Professional Medical Association has approved our laser specialist certification course. It is designed to provide comprehensive training and hands-on experience to help you achieve certification as a laser specialist. With this certification, you can apply for a state license in your home state and join the ranks of licensed laser specialists nationwide. Moreover, our laser training program is one of only five in the United States that qualifies students for the coveted national certification.
The National Council on Laser Certification (NCLC) provides this exclusive certification to the country's most highly trained and educated professionals. Earning this certification will set you apart from your peers and competitors and elevate your standing in the industry. While many training schools cannot provide this level of certification, the National Medspa Training Institute takes pride in offering this certification to our students.
Our laser technician training program begins with an online course that can be completed at your own pace. Once you've finished the online coursework, you will visit our state-of-the-art training facility in Colorado Springs, where you will receive 40 hours of hands-on training in a small class setting. We limit our class sizes to 2-5 students to ensure that every student gets individual attention and support to develop the necessary skills, knowledge, and confidence to excel in the field.
Our experienced and knowledgeable instructors have over 20 years of experience in the laser industry and are among the country's first nationally certified laser technicians. During the 120-hour program, you will receive training in all laser and light modalities, with a particular focus on laser hair removal, skin rejuvenation, ablative skin rejuvenation, RF procedures, body contouring, muscle sculpting, CO2 treatments, vascular treatments or vein removal, treatments for sun damage and melasma, and more.
Course Curriculum
Our laser technician training and certification program is tailored to new aesthetic professionals, nurses, and anyone starting in the field of aesthetics. The program offers a comprehensive education on minimally invasive, office-based cosmetic laser and light procedures, giving you the hands-on skills and knowledge required to provide effective and safe treatments. Whether you're a new laser technician or an experienced aesthetic professional, our program will provide the foundation to start your journey in cosmetic laser technology's exciting and dynamic field.
40-Hour Virtual Course- Online Pre-Certification Practical guide for laser and light procedures through our student portal
Light and Laser Training Textbook
Training Workbook
Forty hours of additional training that includes Hands-on training performing a variety of treatments using our large variety of laser and light brands.
Sales Training and Career Guidance
Expert Guidance and tips from a top Laser Expert
Certification for Laser and Light laser specialist. (all four are on the market)
NCLC prep course
NCLC Practice Exam
Recommendation letter to the NCLC to qualify for the NCLC exam
NCLC Certification
Laser Specialist Certification
Lunch is provided each day on-site.
40 CME hours
Takeaway
If you're considering a career in the growing field of laser aesthetics, pursuing certification as a laser technician training and certification program is an excellent first step. Becoming certified validates your skills and knowledge and increases your credibility as a professional in the industry. Certification also gives you access to more job opportunities and higher earning potential. It is important to note that the requirements for laser technician certification vary by state, so it is essential to research and ensure that you meet all the necessary criteria to practice in your state.
Pursuing certification may seem daunting, but with the right training program, it can be a rewarding and fulfilling experience. At the end of the certification process, you will have the skills and knowledge to perform a variety of laser treatments and improve the quality of life of your clients. Contact National Medspa Training Institute to learn more about what we can offer.